2018 Louisiana Farm Bureau Holiday Shop
Create a graphics package promoting the Louisiana Farm Bureau Holiday Shop program, running from November 1 - 26, 2018. The Louisiana Farm Bureau Holiday Shop offers Louisiana Farm Bureau members the opportunity to purchase fresh citrus fruit, citrus trees, farmed and grown in Louisiana, and a variety of pecan products from Louisiana and mixed nut varieties from Florida Farm Bureau producers and farmers. They also offer homemade jellies and pecan oil from Louisiana.
11"x17" p
rint poster for parish offices, print ad for statewide publication, v
inyl banner
​​​​​​​, s
ocial media graphics for Facebook, Twitter and Instagram
To create a graphics series that promoted Holiday Shop, and could run for the next five years. This means I needed to create a system and a theme highlighting Christmas and agriculture that would be consistent and relevant until 2022.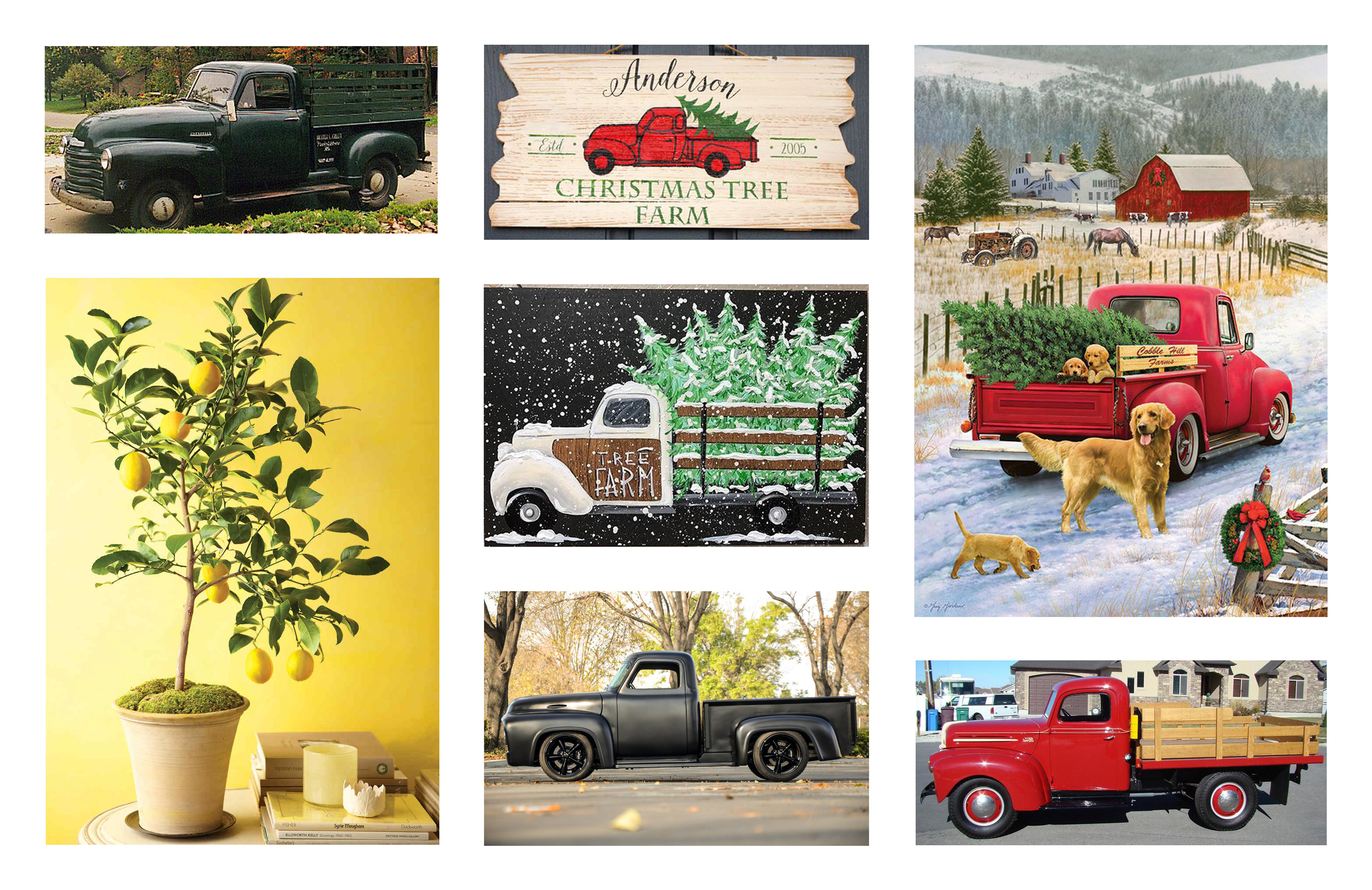 I wanted to create something that felt nostalgic to the holidays, but the agriculture. So I began researching vintage farming/agriculture christmas cards. I looked at what elements felt good, homey and would bring holiday memories that also represented agriculture. I saw barns, houses, lots of snow, but what stuck out to me for 2018 were the old farm trucks that either had a Christmas on the roof, or a truck bed filled with wrapped gifts.
​​​​​​​
Looking at the year trucks in the cards, they ranged around the 1950s. While the models in the cards looked close to Chevrolet models, Louisiana Farm Bureau has a member benefits partnership with Ford. So to honor our partnership, I decided to reference the 1955 Ford F-150.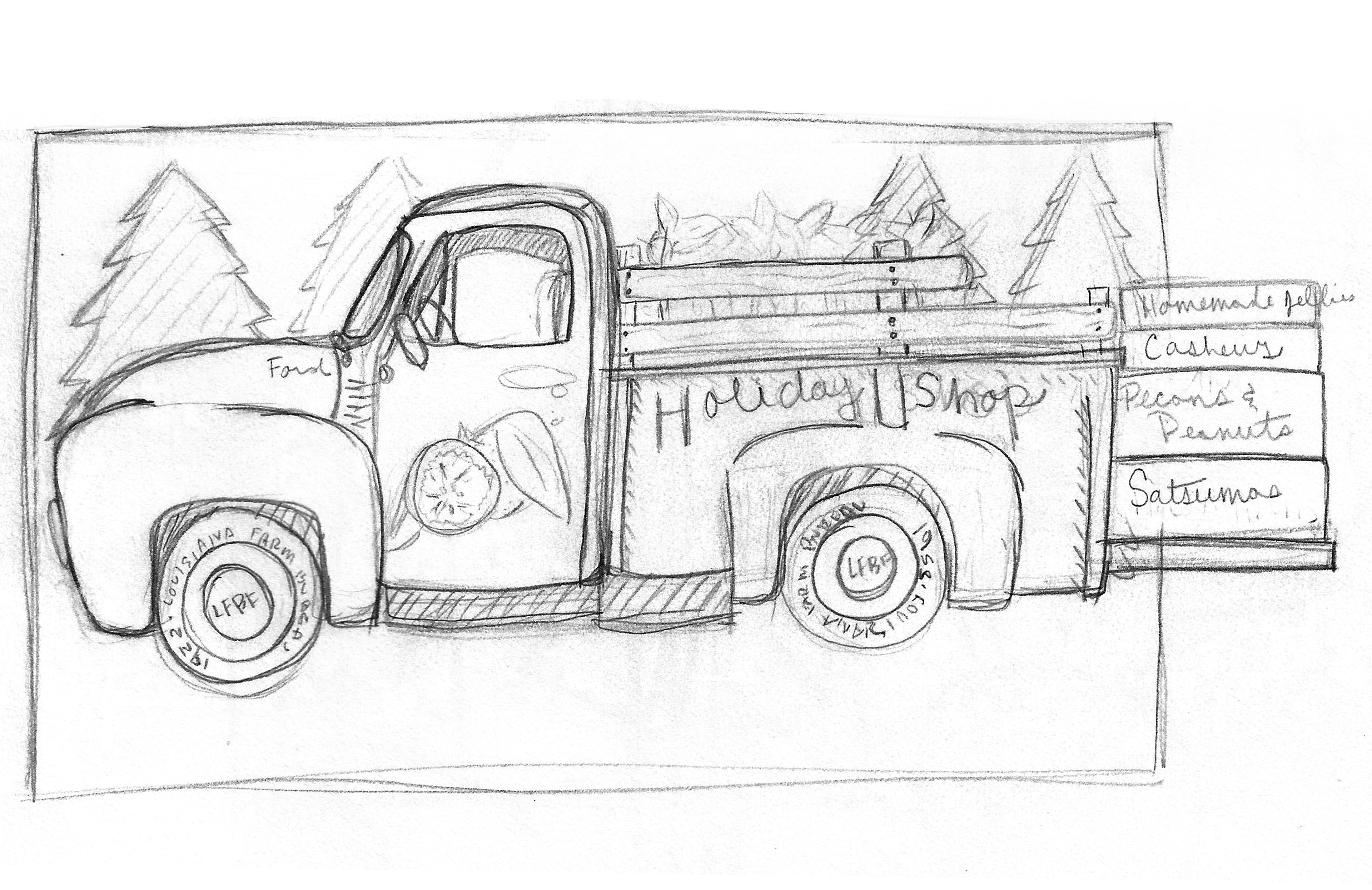 I added some elements from other farm trucks, like the wood panels in the truck bed, then I gave a nod to the vintage Christmas cards that had truck beds filled with gifts or Christmas trees. I opened the truck bed, and added crates promoting some of our items like satsumas, pecans, Homemade Jellies and Peanuts and Cashews. Also in the truck bed are citrus trees with small, sprouting fruit. While the trees purchased do not have fruit on them, I added the fruit to signify they are our citrus trees. Within the truck artwork, I added the Holiday shop name, as well as our company logo on the back of the bed and rims of the tires.
​​​​​​​
I was exploring this style at the time of the project, and I knew this project was another opportunity to try something new. I limited myself to five colors, PMS 202 or Farm Bureau Maroon and four other colors that gave a Christmas feel while complementing our brand color. I went back and forth though color resources like Design Seeds, Pinterest and Dribbble and adjusted from there. Once I had my colors set, the real challenge could begin -- how will I make an interesting in-depth illustration with just five colors? I wanted the maroon to be the center of attention, so I made the truck maroon, and any plant elements dark sea-green. With that and the aqua-green background, the off-white and gold had a chance to highlight but not overpower the maroon, which was exactly what I wanted.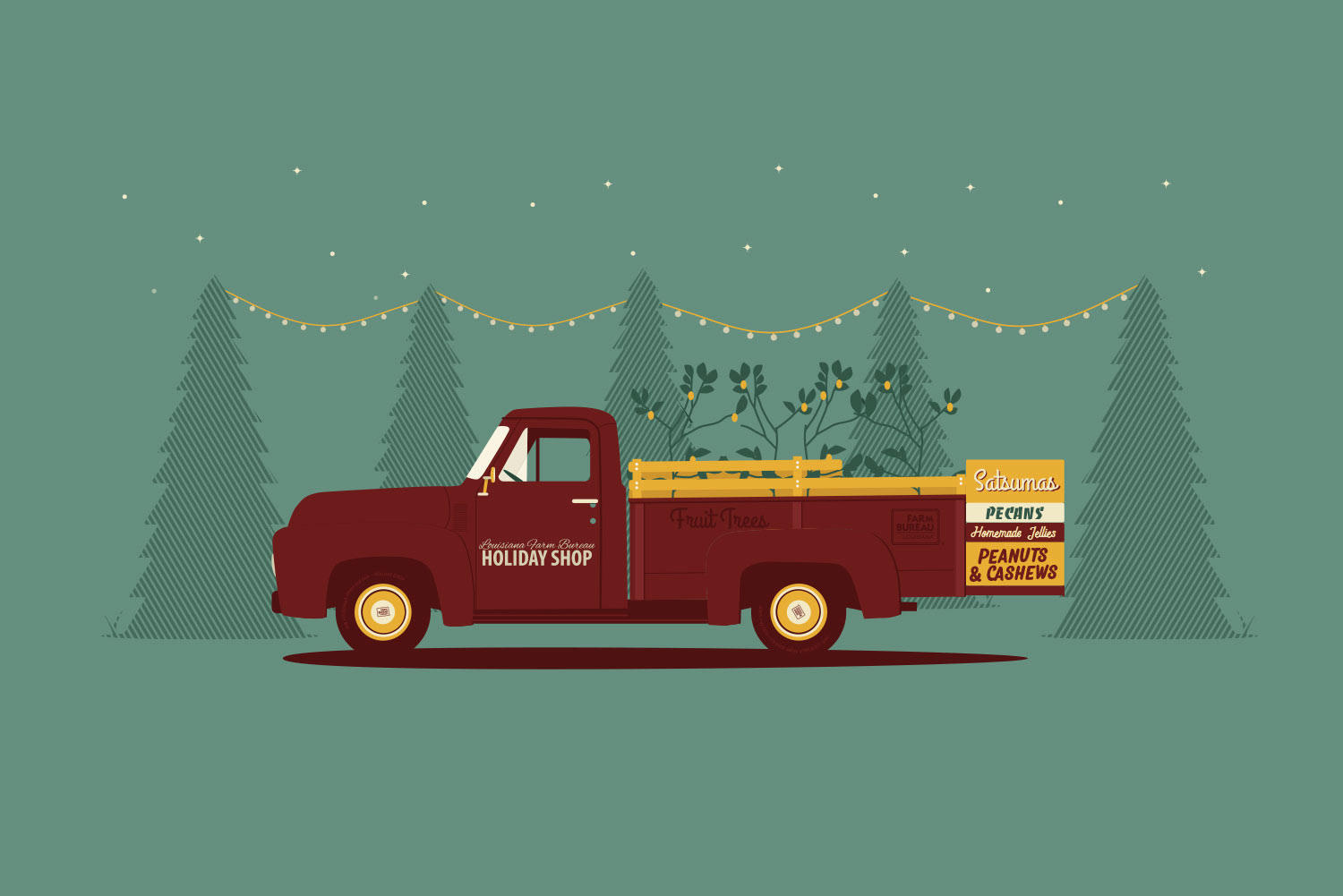 Now the artwork is finalized, it's time to plug in the art into the deliverables. The truck is featured on the office poster, a print ad to run in an agricultural publication that circulates statewide, vinyl banner and a social media graphic for Facebook, Instagram and Twitter. However, I need to create more than one social media graphic. Reusing some of the elements from the art, I combined it with some photos I took of some of the products, and created a graphics series to run throughout the month.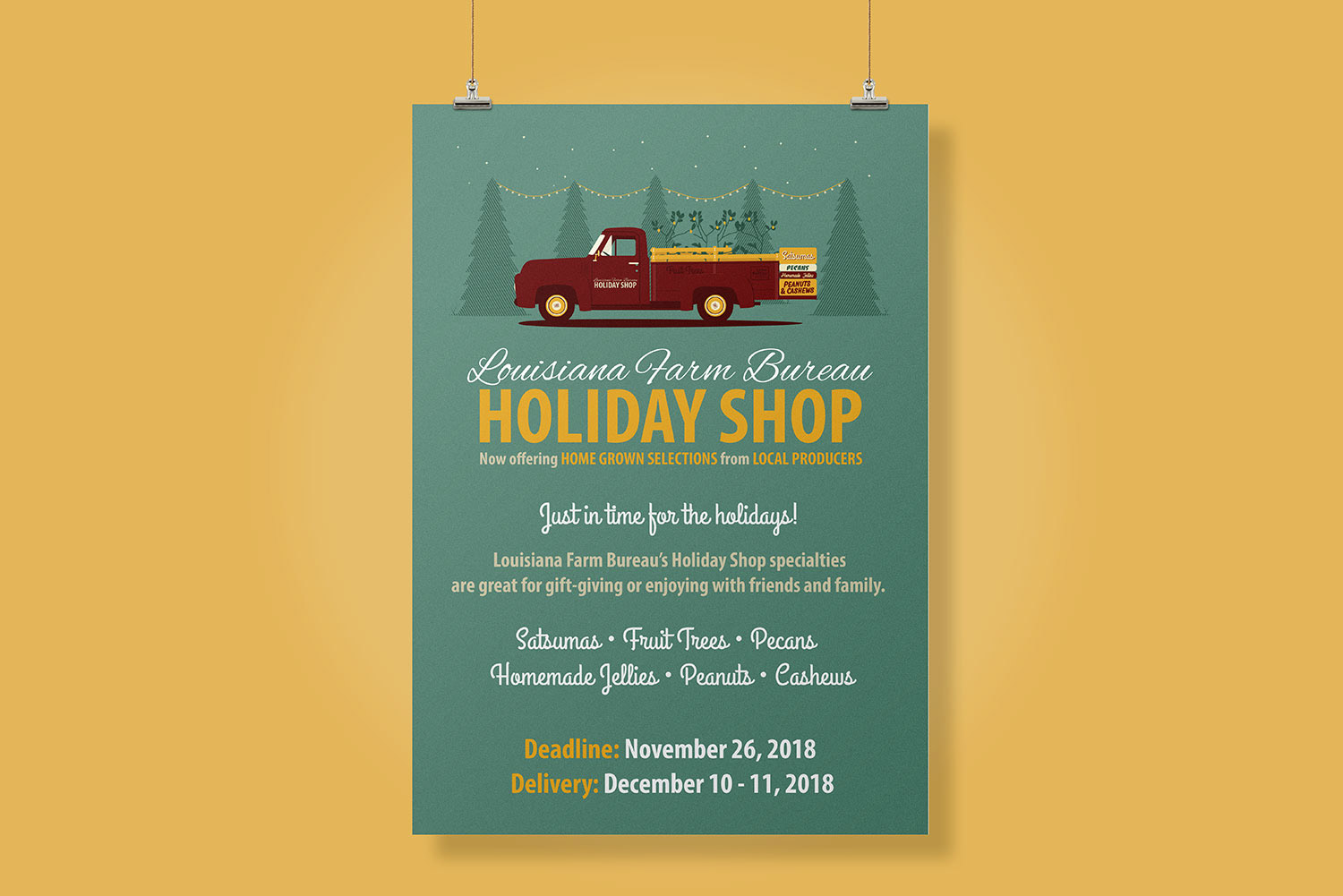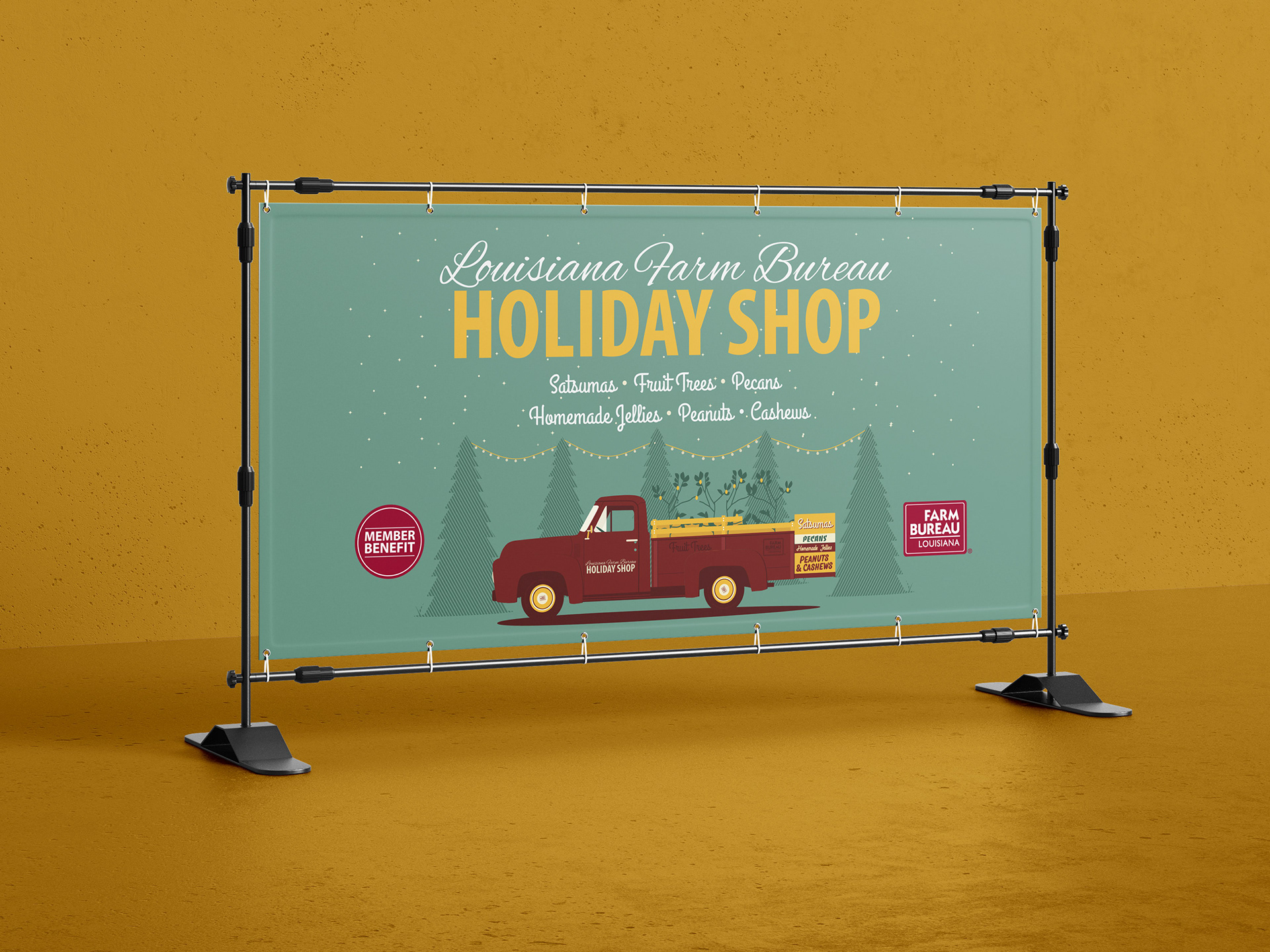 Matt Sirgo, Louisiana Farm Bureau Program Assistant; Wendell Miley, Louisiana Farm Bureau Facilities & Safety Director
Team: 


Avery Davidson, Louisiana Farm Bureau Communication Director; Kristen Oaks-White, Louisiana Farm Bureau Social Media Coordinator; Monica Velasquez, Louisiana Farm Bureau Graphic Designer, Photographer and Webmaster
Production Vendors:


Vivid Ink Graphics, poster and banner printing