2019 Louisiana Farm Bureau Holiday Shop
Create a graphics package promoting the 2019 Louisiana Farm Bureau Holiday Shop program, running from November 1 - 25, 2019. The Louisiana Farm Bureau Holiday Shop offers Louisiana Farm Bureau members the opportunity to purchase citrus trees and a variety of pecan products, all from Louisiana and mixed nut varieties from Florida Farm Bureau producers and farmers.
11"x17" print poster, letter-sized poster, print ad for statewide publication, social media graphics for Facebook, Twitter and Instagram
To create new artwork in the Holiday Shop series, using the design system and theme created in 2018 to promote the 2019 program.
​​​​​​​
As stated in The Challenge, this series started in 2018 and I encourage you to read more about the systems and theme. After looking at the graphic series in 2018, the clients and communications director advised on room for improvement for the new year. Changes from 2018 include replacing the company name written in script with Louisiana Farm Bureau Federation logo in a more prominent area of the poster and updating highlighted products. Also, the client decided to not reorder a vinyl banner with the new artwork. Instead, we purchased a generic table cloth with the company logo and Holiday Shop type that can be used year after year.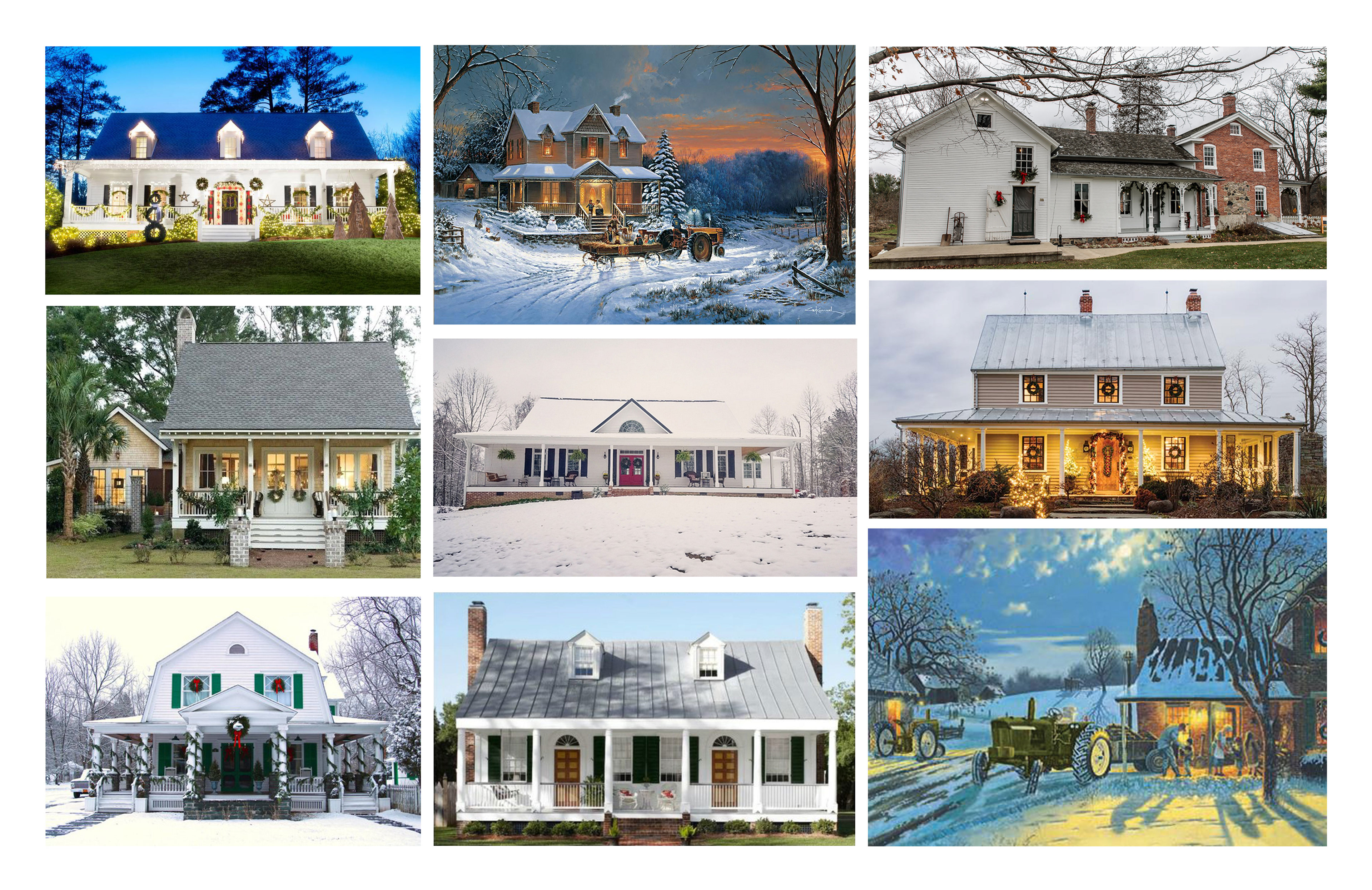 Going back to my research from 2018, the second element that stood out to me were the vintage tractors. However, I wasn't ready to do another vehicle, because I didn't want to have the front end of the series vehicle heavy. So going back and even looking at photos I had for other projects, I was looking at a snow-covered Christmas barn, a Christmas farmhouse or a Christmas tree farm. I decided to run with the farmhouse for 2019. I went back to the Christmas cards and even looked into farmhouse Christmas decorations on Pinterest, and saw what to add, along with the Holiday Shop promotional props from 2018 graphics.
I found a lot of modest home designs, with a lot of snow. However, it only snows in Louisiana once in a blue moon, so I didn't want to add something snow covered. They also had porches with rocking chairs and other knick-knack around, but I didn't want to distract from the house or products. So I kept it simple, and added Christmas lights using colors from the color palette. I kept the Christmas trees from the 2018 graphics, as well as recycled the Christmas trees.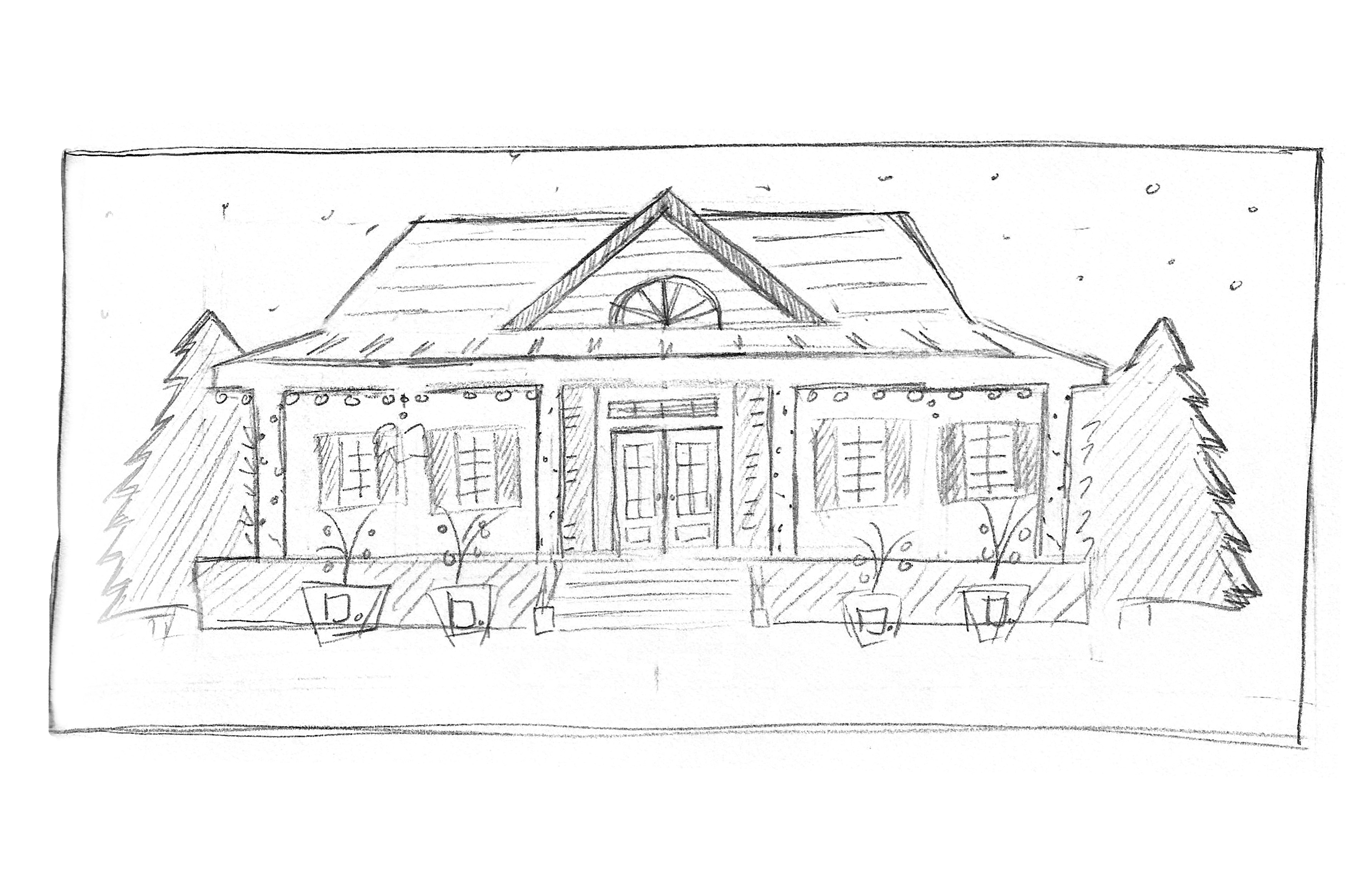 ​​​​​​
If you look at my Illustrator file from 2018, I made copies of graphics assets, like textures I created, live for reuse. I copied some elements from the previous year that I knew I wanted to recycle. I also rebuild some elements like the Christmas trees, because I learned a more efficient way to build and edit those elements. But others, I made some scratch like the house and it's elements. I experimented with the different stroke textures to give the illustration more depth, like using the gold strips to show lights are on inside, versus just using a solid gold block. I also added a bar of stripped Artificial Tree to the Farm Bureau maroon roof, to give more depth to the roof. It was great experimenting with colors, textures and techniques in a new way.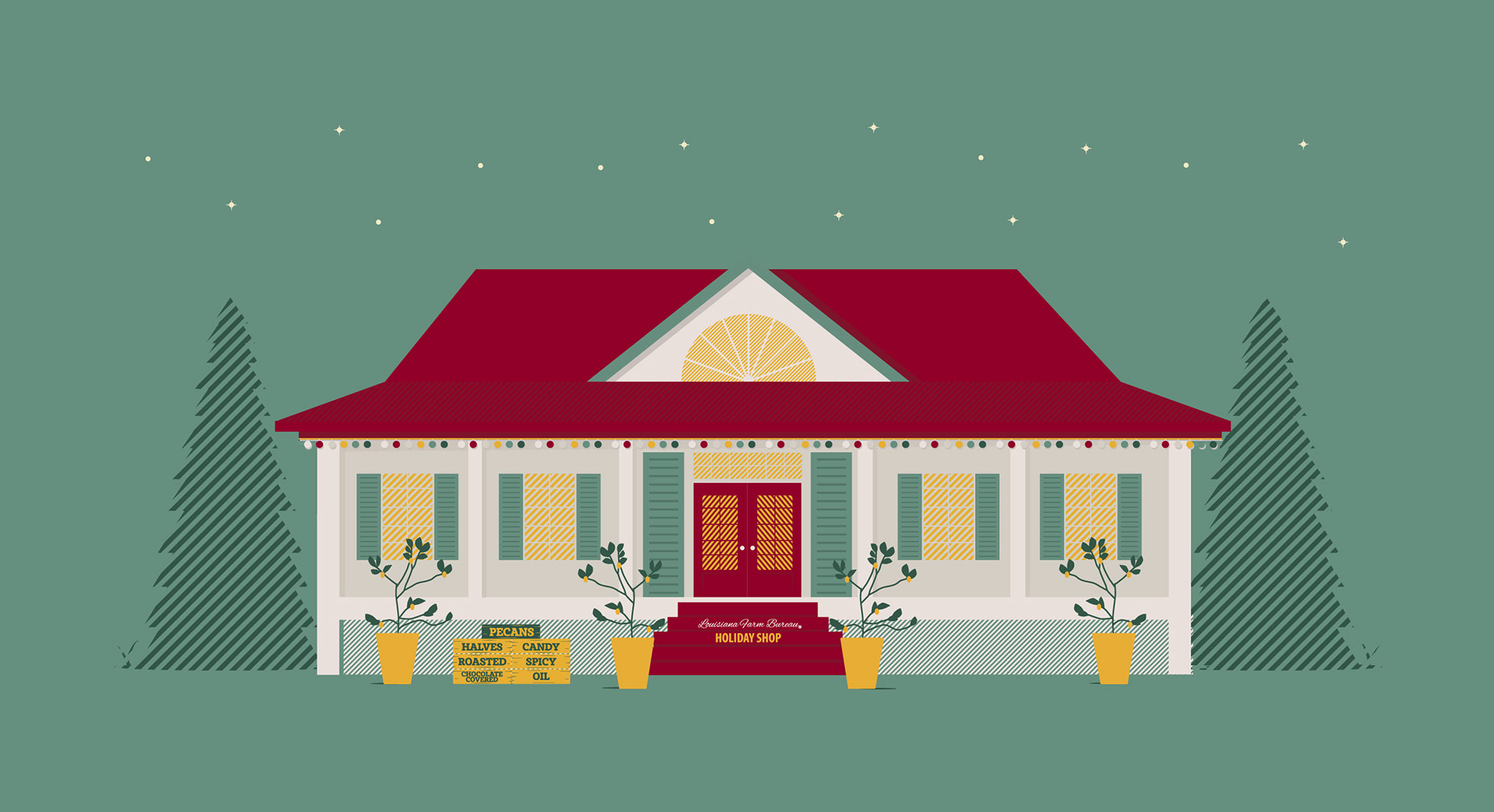 With the final artwork

approved, it's time to plug in the art into the deliverables. The farmhouse is featured on an 11"x17" and letter sized poster, a print ad to run in an agricultural publication that circulates statewide and a social media graphic for Facebook, Instagram and Twitter. However, I need to create more than one social media graphi

c. Reusing some of the elements from the art, I combined it with some photos I took of some of the products, and created a graphics series to run throughout the month.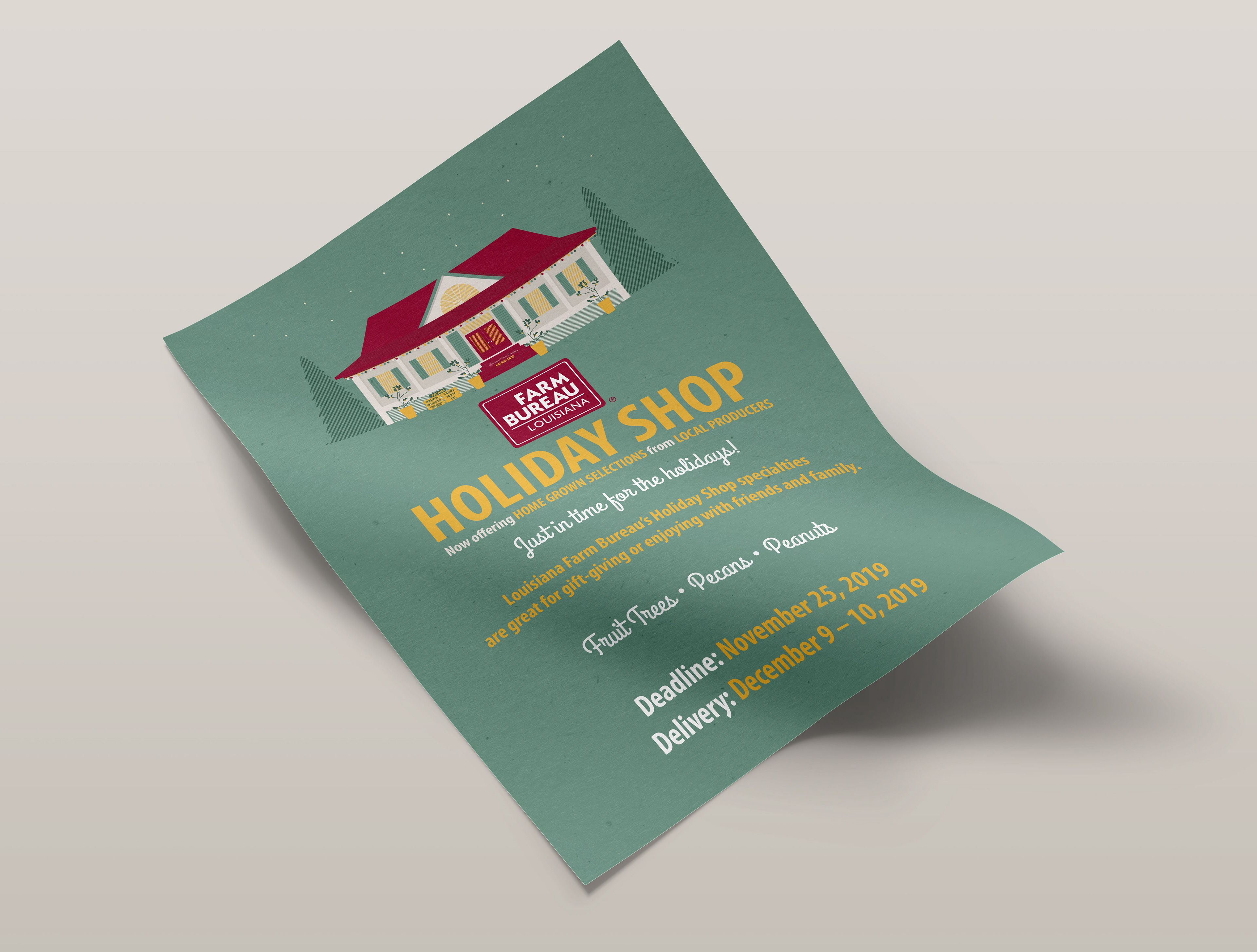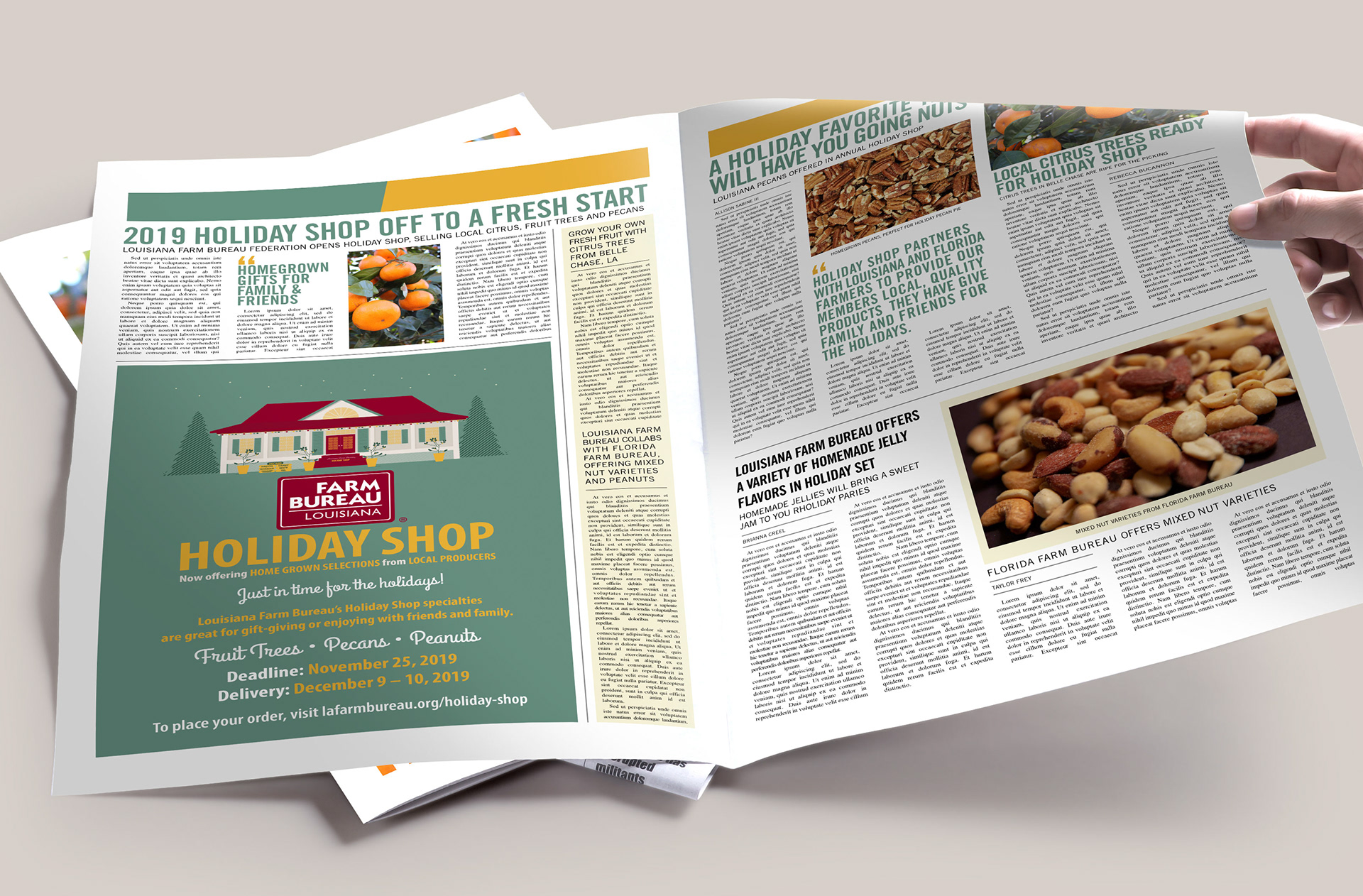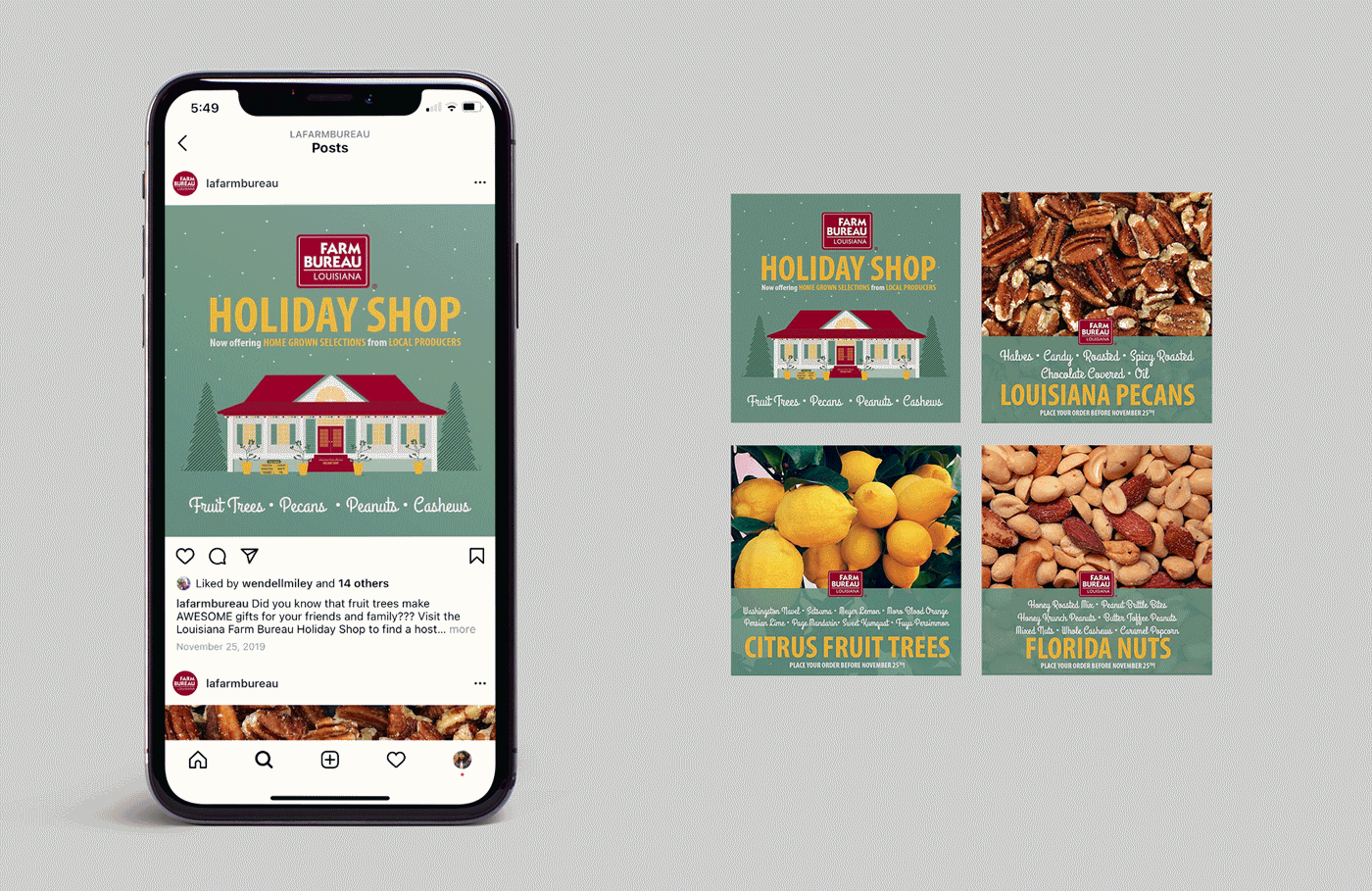 Matt Sirgo, Louisiana Farm Bureau Program Assistant; Wendell Miley, Louisiana Farm Bureau Facilities & Safety Director
 Avery Davidson, Louisiana Farm Bureau Communication Director;  Kristen Oaks-White, Louisiana Farm Bureau Social Media Coordinator; Monica Velasquez, Louisiana Farm Bureau Graphic Designer, Photographer and Webmaster
Vivid Ink Graphics, poster printing