97th Louisiana Farm Bureau Convention
Evolve the graphics package for the Louisiana Farm Bureau Annual Convention from 2018. This graphics package will be the system used from the 96th Annual Convention to 99th Annual Convention. The graphics package must translate to print, environmental signage, digital media including social media and web and broadcast media.
Read more about the design system here.
Creating a flexible graphics package for our annual convention, using original artwork showing agriculture in everyday lives.
CONVENTION LOGO, FONTS & COLORS
Going back to my 2018 research, I wanted to lean more into the New Orleans French Quarter buildings. Looking at the styles of the buildings and how businesses advertised themselves, I wanted to create 10 buildings promoting Louisiana agriculture.
Each smaller building represents the top 10 agriculture commodities in Louisiana, according to the 2018 LSU AgCenter annual Ag Summary. Each building is colored to match each of the brand colors for the convention. The name of each store is derived from the parish (or county depending on where you're from) who produced the most money in that commodity. For example, Vernon Parish was the top producing parish in Forestry, the top commodity in Louisiana according to the ag summary. Thinking of good produced from Forestry, I instantly thought of books. Being a Harry Potter buff, I thought of Harry's uncle, Uncle Vernon, and names this store dedicated to forestry "Uncle Vernon's Magical Stories". Some of these names can be cheesy (shout out to Louisiana dairies), which speaks to my own sense of humor. Think of the "Burger of the Day" names from Bob's Burger's, which was my inspiration. 
The new cityscape features the new commodity buildings, along with reusing the longer buildings from last year. In the background, you'll find, from left to right, the Huey P. Long Bridge, the Plaza Tower, the New Orleans Marriott on Canal -- the location of our convention, The Benson Tower and the Mercedes-Benz Superdome. Just a few buildings you'll find in a New Orleans cityscape. I also raised the sunset gradient, so more gold comes through at the bottom. As for the logo, I removed the date and made it larger above the cityscape.
This project begins the fall before the annual convention, but the colors and type were already decided by this point. This brochure is distributed at the grassroots, explaining the rules, topics and regulations of each youth contest. We also feature the winners of each contest from the previous year.
This program was a 26-page booklet with the convention schedule, ads and need-to-know information about our annual event. The cover was printed on gloss cardstock, and the interior pages were printed on uncoated paper at a local printer.
Women's & Youth Event Programs
These templates were used for our Youth Contest events, our Women's Leadership Committee business events and our Memorial Service. These programs were printed on uncoated cardstock at a local printer.
Meeting, Event and Information Signage Templates
​​​​​​​
Majority of thumbnails were created using photos from each event, taken by our contract photographers or a LFBF Communications staff member.
TWILA Coverage Thumbnail Template
Video Lower Third Template
Convention Video Graphics Example
Event Livestream Covers and Thumbnail Examples
​​​​​​​
Awards Program Slide Templates
Award Title Slide Template
Award Prize Package Slide Template
Social Media Coverage Slide Template
These graphics were shown before the in-person evening events. We used photos taken at our photobooth, and public social media posts using our convention hashtag. Attendees using our hashtag had a chance to win a giveaway prize at each of the evening events.
Giveaway Prize Slide Examples
Custom Award -- President's Award
This award is given to the Parish Farm Bureau who has the most star awards. Since we are a grassroots organization, I wanted to bring a farm feel to this award. I created the artwork for the metal plate, and it is attached to the found barn wood.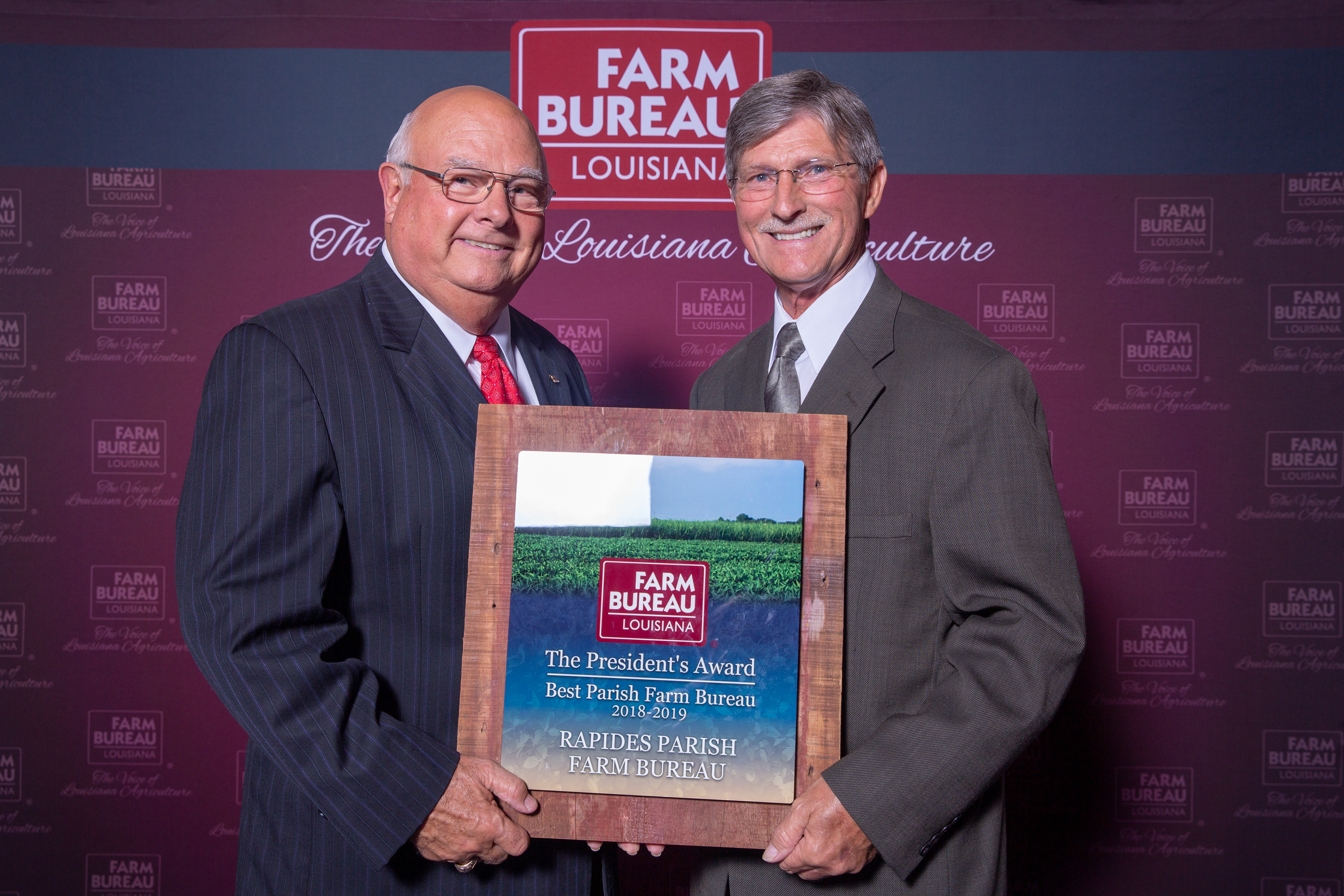 I created a convention website promoting convention forms, schedule and highlights using Squarespace. I used the
Basil template
because I was inspired by the menu functions, and large photo features within the template. The website features our main convention graphics, as well as photos and video created by our communications team. 
Social Media Graphic Templates
These graphics were created to promote speakers, livestream times and giveaways at the convention. Graphics were made for Facebook, Twitter, Instagram and we had a Snapchat filter for in-person attendees.
ONE LAST BEHIND-THE-SCENES NOTE
As the solo in-house graphic designer, I have to start working on graphics far in advance. I start creating/updating the theme concept in March, start assembling the graphics package in April, moving on to print and signage in wrap up all digital assets and templates just before our company staff heads to New Orleans for the event in late June. 
At convention, I am responsible for all website updates, organizing and executing all photography assignments with our communications staff and contract photographers, and assembling livestream and social media graphics for live events. I'm thankful for our team that includes our contract photographers that I'm allowed to work with for this event. Sometimes, my role includes lending a literal hand behind-the-scenes, like this is quick snapshot a staff member took while we were working one of our backdrop shoots.
You can view all of our convention photos here.
I'm proud of the work our team accomplishes at Convention every year. It is the largest project of my role at Louisiana Farm Bureau Federation every year, and it's also the most fulfilling project by far.
CREDIT
Tim Payne, Louisiana Farm Bureau Federation Field Services Director; Lynda Danos, Louisiana Farm Bureau Federation Convention Coordinator; Megan Gravois, Louisiana Farm Bureau Federation YF&R and WLC Coordinator; Niki Clarke, Louisiana Farm Bureau Federation Field Services Assistant; Cyndi Gassie,  Louisiana Farm Bureau Federation Membership Assistant
Avery Davidson, Louisiana Farm Bureau Communication Director; Neil Melancon, Louisiana Farm Bureau Federation Assistant Communications Director; Kristen Oaks-White, Louisiana Farm Bureau Social Media Coordinator; Karl Wiggers, Louisiana Farm Bureau Federation Videographer and This Week in Louisiana Agriculture Producer;  Monica Velasquez, Louisiana Farm Bureau Graphic Designer, Photographer and Webmaster
Vivid Ink Graphics, sign printing and backdrop production; Baton Rouge Printing, print programs, Crown Trophy, President's Award production; Uptown Graphics, hotel decal printing and production